If you want to improve your fitness, but can't or don't want to join a gym, treadmills are one of the most popular types of in-home exercise equipment. The best models offer a smooth, stable ride and are durable enough to hold up to everyday use. Most people only need basic features, but high-end treadmills may have perks like preprogrammed workouts and Internet connectivity — features that may make your workout a bit more fun.
If you have made up your mind that you are going to get fit and lose weight, then you really need to find a piece of exercise equipment that will suit your specific needs and requirements. For the average person looking to exercise at home or maybe in their office, a treadmill is a really great idea.
You don't necessarily have to break your pocket book and buy the most expensive treadmill out there because there are so many really good treadmills for under 1000 dollars that will do the perfect job. But before you go out shopping you need to decide what features you need, the types of workouts you will be doing and how often you intend to use it.
You should also have an idea of the space that you have a available for your treadmill. Your best bet is to purchase a treadmill from a recognized manufacturer which you will be able to get parts for easily if needed, and which comes with a manufactures' guarantee.
Best Treadmills in 2021
With all the treadmills on the market, you can pay from a few hundred dollars up to $4000 or $5000 for a high end machine. But you have to remember that the most expensive treadmills are not necessarily the best for you. Here are the best treadmills that you can buy in 2021.
The NordicTrack Commercial 1750
The NordicTrack Commercial 1750 is solidly built and feature packed, including the ability to plot and run a course based on a route anywhere in the world — the treadmill will incline and decline to simulate the terrain. The touch-screen console is web enabled so you can stream video, read email and more as you run. Its 60-inch belt is ample for most runners' strides and the treadmill is built to accommodate users up to 400 pounds, yet the deck can fold up to minimize its footprint when not in use.
Pros
Up to a 3-percent decline
Smooth, stable deck with great shock absorption
Internet-enabled touch-screen console
iFit Live built-in
Cons
Customer service concerns
Performance
Terrific for the price. The NordicTrack Commercial 1750 is about as solid a folding treadmill as you are likely to find at this price point. Its 400-pound weight limit is at the top of what is available in most home machines — including non-folding models. A recent refresh beefed things up to "help reliability and performance," TreadmillDoctor.com reports. The 3.8 HP motor (continuous duty) will keep the belt running smoothly under all conditions. At 60 inches, the belt is long enough to accommodate most runners, and the 22-inch width is wider than normal, adding an extra touch of stability and assurance for users whose gaits are a little unsteady. Two position cushioning lets you set the shock absorption level softer to reduce stress on your joints, or harder to simulate running on a hard-top road. Though it's no-longer unique in a treadmill in this price range — or even cheaper — the ability to incline or decline your angle (to simulate running up and down hills) is a big plus.
Ease of use
Feature packed, but not overwhelming to use. Users who crave all the bells and whistles they can get in a treadmill won't be disappointed with the NordicTrack Commercial 1750. Even better, reviews indicate that many of these features help users get more out of their treadmill. For example, though some Runner's World testers found the controls to be a little finicky at times, they also found that the one-touch speed and incline controls were convenient. The 7-inch touch screen display is web enabled, so you can be entertained as you run — and if you want to use your own tablet, there's a tablet holder above the console. iFit technology is built-in (though you do have to pay a separate subscription to make the most use of that). iFit syncs well with the treadmill to create interactive workouts — for example running any route in the world that's been captured in map form, with the treadmill inclining and declining to match the terrain. There are heart-rate sensors built into the handrails, and a wireless chest strap sensor is also included.
Durability
Built to last. Experts give good grades to this treadmill's build quality. One review looks at durability over the long haul and reports that following a half year of simulated use, signs of wear were minor.

Landice L7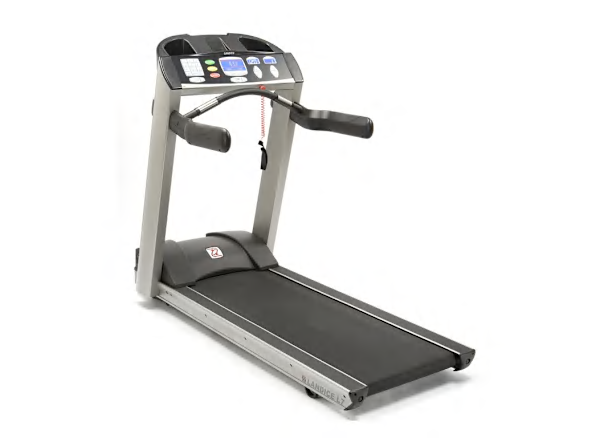 There's no disputing that the Landice L7, which comes with four different console options, is built solid as a rock. The 58-inch deck may be a little short for runners taller than 6 feet, but this treadmill is otherwise perfect for the dedicated athlete.
Pros
Powerful motor
Great construction quality
Transferable lifetime parts warranty
Cons
Non-folding deck; might be too large for some homes
58-inch tread belt may be short for tall runners
Best warranty requires having an authorized dealer with 60 miles
Performance
Stable, solid and powerful. The L7's 4-horsepower continuous-duty motor is one of the most powerful on any home treadmill. "This motor is guaranteed to run effortlessly under the most strenuous workouts," writes Fred Waters of Treadmill-Ratings-Reviews.com. It's quiet, too, and reviewers say the L7's cushioned, inch-thick deck is supportive without feeling spongy and an orthopedic support system is available as an option for those who need or want an even softer running surface.
Ease of use
Like all treadmills that require user assembly, there's no shortage of grousing over the challenges of putting everything together. That said, the pattern is not excessive compared to other treadmills, including treadmills that cost twice as much. If you do run into challenges, customer service is available to help you through (more below). There aren't a lot of bells and whistles, though the 30 built in workout programs provide enough variety to keep users interested and motivated, Waters says. There's a powered 10 percent incline; some cheap treadmills only let you change the incline manually, or not at all. There's only one cushioning level, but it's set up in zones to mimic the cushioning a running shoe provides — soft at the heel but firm toward the front.
ProForm Pro 2000
The ProForm Pro 2000 is easily the best value available in a home treadmill. You can find cheaper treadmills, and you can find better performing treadmills, but you won't find another treadmill that performs this well at this price point. Its build quality and features also draw admiration and the warranty is exceptional for a treadmill in this price class. However, keep your fingers crossed that you won't need it as the company's customer service department comes in for some criticism.
Pros
Can incline and decline
Extra wide, 22 inch belt
Lifetime warranty on frame and deck
Wireless chest strap heart rate sensor included
Good build quality
Cons
Customer service is not well regarded
Performance
Terrific bang for the buck.  Reviewers are nearly unanimous: The ProForm Pro 2000 is one well-made, good performing treadmill. It earns a number of expert recommendations and in one large comparative round up it is the highest-rated folding treadmill as well as a Best Buy. Runner's World says "Opt for this machine if you are on a budget." The 3.5 continuous horsepower motor is powerful enough to provide a smooth, steady workout even at the top speed of 12 mph. At 60-inches long, the treadmill belt is sized to accommodate all but the very tallest runners, and, at 22 inches, it's wider than normal for better stability. This is one of the least expensive treadmills with both incline and decline capabilities. The running angle can change in sync with a workout program or manually with a push of a button.
Ease of use
Hard to assemble, easy to use.  We saw few complaints regarding ease of use, though some are disappointed with the number of built-in workout programs (24). The ProForm Pro 2000 is iFit compatible, but that requires an optional $100 module (in addition to the $100 annual subscription fee) and you'll need to use your own tablet or smartphone to access the workouts. Operation is smooth. Runner's World says, "Testers liked how quickly and smoothly it changed speed and incline–getting the machine whirring as fast as 12 mph takes just one finger tap." The 7-inch display shows important workout feedback — mileage, speed, calorie burn, heart rate and more — and is judged as easy to see.
Experts prefer a chest strap heart-rate monitor to one in the handgrips, but the Pro 2000 ships with both, and the chest strap is wireless — another plus. The biggest complaint revolves around assembly. Though some have no issues, others find it to be an almost insurmountable challenge. In addition, the box is large and heavy. Many suggest that those who are less handy or have less physical strength might want to seek assistance when putting the Pro 2000 together and moving it into place.
Durability
Terrific build quality. The ProForm Pro 2000 is well-built and durable, say most experts. "They put quite a bit of quality into the machine and the drive system parts would shame some competitors in the $3,000 range," says TreadmillDoctor.com. One reviewer subjects the ProForm Pro 2000 to the equivalent of a half-year's usage and finds little sign of wear. That said, it's not quite as sturdy as some pricier treadmills, such as the NordicTrack Commercial 1750 (Est. $1,500).
While the NordicTrack can accommodate users up to 400 pounds, the Pro 2000 is only rated for 350 pounds — though that's still more than many similarly priced or cheaper treadmills. The warranty is also exceptional for a treadmill in this price range: Lifetime for the frame and motor, five years for other parts, and two years labor.

What To Look For In A Home Treadmill
The best treadmill for the money will depend upon your individual needs. What works for one person may not be ideal for another – so give a little thought to what you want from your home treadmill.
Here are a few points that you might want to take into consideration when selecting your ideal treadmill:
Price.
Treadmills aren't cheap – but if you compare them to the price of a gym membership, you might consider even one of the pricier models to be good value for money.
Speed.
Will you be walking, jogging or running on your treadmill? Be sure to pick one that can go at the maximum speed you desire to move at. On the other hand, don't spend too much money by buying a jogging/running treadmill if you only intend to walk on it.
Storage.
Some treadmills fold away to take up less space when they're not in use. Is that something that you would be interested in?
Track angle.
Some treadmills will allow you to angle the track so that you are effectively walking uphill. If that's something that you want then make sure that the angle obtainable is suitable for your needs.